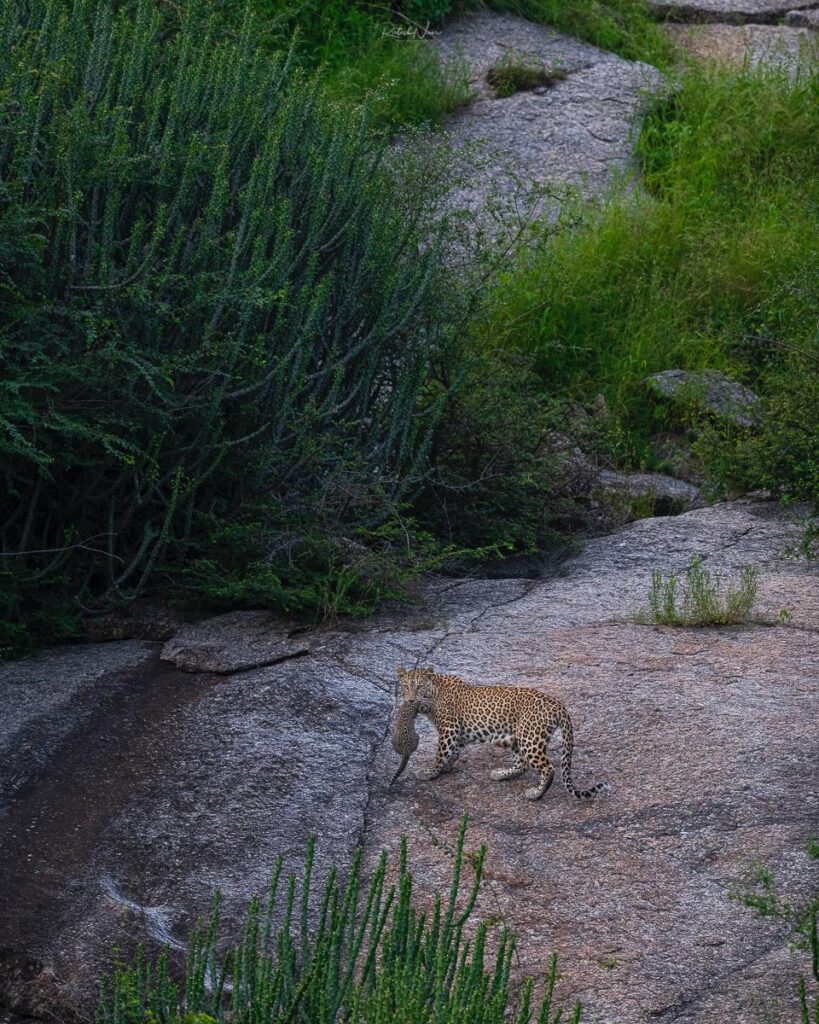 Capturing the elusive ghost of the jungle in my lens has been a long cherished dream. While researching jungles and wildlife reserves, I came across a little known leopard reserve nestled in the ancient granite hills of Jawai Bandh at Bera, Rajasthan. After over 5 months of abstinence due to the lockdown, I couldn't resist the clarion call of the wild anymore and decided to drive down to Bera to chase leopard luck. My focus was to track a female leopard Jiah who ruled Lilode – an area inside Bera. She had just littered after mating with a dominant male Hira. After two safaris to the area which housed her lair, my tracker & I were fairly confident of the route she took while hunting in the night and drinking from a water body nearby.
The next morning at the crack of dawn, we reached the spot where her pug marks were last found. Armed with my equipment and supported by an expert tracker, we lay in wait for her to cross the mud track and scale the hills. With building anticipation we were fervently hoping for a head on shot in the golden light of the rising sun. But the leopard queen decided to confound us and even before we could register that she had arrived, she took an unexpected turn and vanished……poof..much like the ghost that a leopard is compared to. These hills have many interconnected pathways that connect the caves and Jiah moves around like Houdini. All our pre planning laid to waste, we just caught a small glimpse of her as she gracefully scaled the perpendicular granite rocks. She turned just for a second with a disdainful look –as if smirking at us after outsmarting us. This raised my respect for her by several notches and I understood that she tracks humans way better than we could even begin to imagine. However, my resolve to sight her just strengthened further and my stubborn heart refused to give up without another shot.
For the second safari that day, the heavens smiled because the sun shone bright and my instincts kept telling me to return to the same spot hoping for a sighting. I understood from discussions with my tracker that there was a high probability of Jiah moving her cubs to a new cave and lying in wait at a vantage point was our best option. Feline mothers are known to move their cubs every few days to protect them from predators and unwanted attention from other males. With flickers of hope in my heart, we returned to the same spot and were delighted to again find her pug marks along the track near the water body. This got our adrenaline pumping and was a confirmation that Jiah had fuelled up for a second time that day. This only meant one thing – she was going to move the cubs. We quickly made our way back to the base of the hills. After over an hour of waiting, Jiah emerged from the main cave, carefully holding a cub by the neck in her powerful jaws. She was divine incarnate. She descended the treacherous slopes thrice. Beautiful ferocious eyes and the strong killing machine of a body primed t like a predator, Jiah safely transported her 3 little cubs ( ~ 25 to 30 day old ) to a new cave dwelling.
Fierce & gentle, warrior & mother, protector & nurturer, primordial, undeniably feminine: Jiah took my breath away. This is a once in a lifetime, unforgettable sighting. I feel privileged beyond compare. I am sure that the Universe smiled on me. My leopard luck had finally kicked in! The mystical leopard queen from the magical hills had showered some stardust on me. This image of Jiah against the backdrop of beige, brown and different hues of green from the arid vegetation with a cub in her jaws is invaluable.